Quantum Meruit and Future Contract Conundrum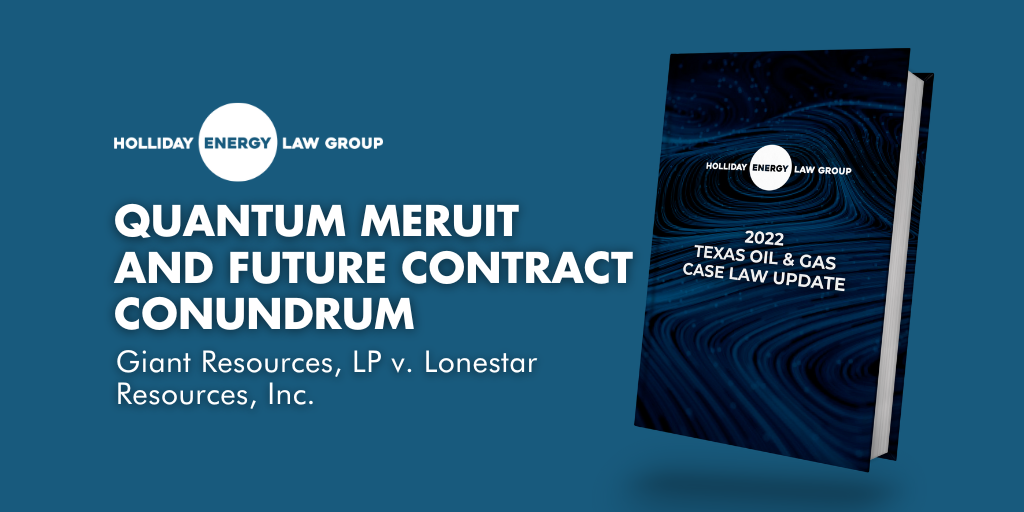 Giant Resources, LP v. Lonestar Resources, Inc., No. 02-21-00349-CV, 2022 WL 2840265 (Tex. App.—Fort Worth June 21, 2022, no pet.). Quantum Meruit Claim.

In Giant Resources, LP v. Lonestar Resources, Inc., the Texas Court of Appeals for Fort Worth held that Giant Resources ("Giant") is not entitled to recover under a quantum meruit claim when the claim is based on services provided in anticipation of obtaining a future contract. That is, no recovery can be had for preliminary services performed to obtain a hoped-for future contract. The court's holding here is consistent with other Texas courts.
Key Takeaways
Quantum Meruit is an equitable remedy providing that one party is owed money for services rendered to another, despite the absence of a stated amount in a binding contract. This remedy does not apply where the services were provided in anticipation of obtaining a future benefit (contract or business opportunity), as opposed to having been provided to obtain compensation for the actual efforts in question.

A confidentiality agreement does not bind the parties beyond its term, or beyond the actual strictures of the agreement.

If you are looking to shop acreage, do not simply pull a templated form Confidentiality Agreement and think you are covered. Pay to have the deal papered up properly.

If you are that concerned about a business partner going around you on a deal, you might look for new partners. Or see Key Takeaway

In the words of the inestimable Rick James, "In my dictionary [the lease flipping game is] cold-blooded."
Origin of the Dispute
Giant is in the business of brokering land deals between landowners and oil and gas producers across Texas, Oklahoma, and Pennsylvania, including Gonzales County in the Eagle Ford Shale play. Giant's services include raising capital for drilling operations, brokering transactions, drilling oil wells, and performing title work. Lonestar Resources ("Lonestar") was Giant's client.
Giant normally charges a brokerage fee for its services. In the typical lease brokerage situation, a broker leases acreage from landowners, assembles those leases into a package or series of packages, and then assigns the pre-packaged leases to an oil and gas operator. The brokerage fee is the negotiated delta between the amount that the broker paid to acquire the leases and the amount that the acquiring operator agrees to pay the broker for lease package. Before closing, Giant, the broker, escrows the leases as well as the fully executed assignments of those leases with an escrow agent. When the acquiring operator pays the escrow agent, the escrow agent delivers to Giant's customer the executed leases and assignments and delivers the brokerage fee to Giant.

Prior to the events giving rise to this lawsuit, Giant had leased acreage and assigned it to Lonestar on one previous occasion, for which Lonestar paid Giant a brokerage fee.

On September 9, 2014, Giant and Lonestar entered into a confidentiality agreement, providing that "Giant may disclose to Lonestar certain information relating to leases, lands and other properties, which will be detailed in 'Exhibit A.'"

No Exhibit A was ever attached to the agreement, though the parties contemplated (stop here for a second – just to be clear, this is a horrible idea) that as Giant brought Lonestar opportunities, the parties would be added to the Exhibit A if Lonestar did not have prior knowledge thereof. In such cases, the parties would jointly acknowledge this in writing.

Other significant provisions of the agreement provided that the information would be treated as confidential, and that Lonestar would not use the information, directly or indirectly, for any purpose other than evaluating the same for the purposes of a transaction as defined by the document. Further, Lonestar agreed, "that it will not acquire, directly or indirectly, any oil and gas leasehold interest, royalty, overriding royalty, mineral interest or other type of interest affecting the oil, gas or other minerals within the area shown in an Exhibit 'A' and made a part hereof for all purposes, during the period of time that this agreement remains in force and effect." However, a subsequent paragraph provided that the parties agreed that "unless and until a definitive agreement has been executed … no contract or agreement providing for a transaction between the parties shall be deemed to exist between the parties, and neither party will be under any legal obligation of any kind whatsoever with respect to such transaction … except as to the matters specifically agreed to herein." This confidentiality agreement expired September 30, 2015.

Pursuant to the terms of the agreement, on May 1, 2015 (i.e. within the term of the agreement), Giant sent to Lonestar a map labeled as an "Exhibit A" to the agreement. On this Exhibit A, Giant identified the Ruddock and Whiddon properties ("subject lands"), saying the subject lands were under Giant's control, that they had been leased but the lease had expired, and that Giant could provide releases from the landowners. Giant then asked if Lonestar was interested in the property. On May 6, 2015, Lonestar emailed Giant advising that Lonestar had recently reviewed the acreage and that it was not interested based on operational considerations.

Approximately 1.5 months after the confidentiality agreement expired, from November 2015 to March 2016, EG 8 (a Lonestar affiliate) leased the subject lands and adjacent non-subject lands directly from the landowners, thereby bypassing Giant. Giant sued Lonestar for quantum meruit, seeking the reasonable value of the services they claimed to have provided, which benefitted Lonestar. Lonestar filed a general denial and raised the statute of frauds and limitations as affirmative defenses.
Trial Court

At the trial court, Lonestar filed a motion for summary judgment challenging Giant's right to recover under quantum meruit because, in part, the services were performed for the purpose of obtaining future benefits or contracts, which quantum meruit does not allow. The trial court denied this motion. Lonestar then filed a second motion for summary judgment contending that Giant's claim was barred by the statute of frauds and by limitations. The trial court granted Lonestar's motion which was incorporated into a take nothing final judgment. Giant appealed.
Court of Appeals

On appeal, Lonestar abandoned its statute of frauds and limitations claims, leaving only quantum meruit at issue. The Court of Appeals for Fort Worth began its analysis by noting that the purpose of the agreement was for Giant to be able to bring to Lonestar future business opportunities that the two might potentially turn into future contracts, and that no definitive agreement had been reached between the two.

Turning to the agreement's terms, the court noted that while the agreement protected Giant regarding confidentiality of the information it submitted to Lonestar, it also clearly provided that unless the parties executed a "definitive agreement, … no contract or agreement providing for a transaction between the parties shall be deemed to exist … and neither party will be under any legal obligation of any kind whatsoever with respect to such transaction by virtue of this or any written or oral expression thereof, except, in the case of this Agreement, for the matters specifically agreed to herein."
Quantum Meruit

The actual agreement did not provide for Giant to be paid for its efforts and expenses in preparing information to submit to Lonestar to consider for future transactions, and no "definitive agreement" was ever executed that would have compensated Giant for its efforts and expenses. The court concluded that whatever work Giant had performed in preparing information to send to Lonestar was, by definition, preformed for the purposes of obtaining future business, i.e., a hoped-for "definitive agreement." Relying on Peko Oil USA v. Evans, the court declared that such a claim does not justify a quantum meruit recovery, and that "no recovery can be had [under Quantum Meruit] for services that are performed with a view to obtaining business through a hoped for contract."

Nevertheless, Giant argued that Peko Oil "has no bearing on the facts and circumstances of this case" because when Giant disclosed its confidential information to Lonestar, Giant had already completed its work. The Court of Appeals rejected Giant's argument, noting that the very essence of the agreement between Giant and Lonestar was that Giant could provide information to Lonestar confidentially but that Lonestar had no obligation to Giant regarding its services unless and until a "definitive agreement" was entered. That is, Giant was doing exactly what Peko Oil addressed – providing services for a "hoped-for" contract. On these facts, the Court of Appeals determined that Giant was not entitled to recover under quantum meruit as a matter of law.

Grass roots lease-flipping, like mineral buying, is akin to doing deals in a third-world illicit arms market. Keep that in mind, and you'll probably be fine.
For a more detailed insight into the 2022 Texas Oil & Gas Case Law Update, download the HELG paper.